Become immersed in faculty-led research while gaining professional hands-on experience on a topic that aligns with your academic interests. Experiences are available to work full-time/full-semester with RPI faculty, at other U.S. institutions, or internationally. Opportunities are also available at Albany Medical School, Mount Sinai, and more for pre-health students looking for medical research experience.
Testimonials from Students
Yuetian Chen, Chemical Engineer '24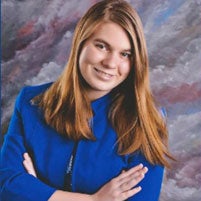 Lucretia Shumate '21
Dual Biochemistry/Biophysics and Bioinformatics/Molecular Biology
A dual biochemistry/biophysics and bioinformatics/molecular biology major, Lucretia secured a fall semester away research internship at Magee Women's Research Institute in Pittsburgh, Pennsylvania.
Solving real-world problems and impacting women's lives every day, Magee-Women's Research Institute and Foundation focuses their research efforts on reproductive development, pregnancy and newborn medicine, infectious disease, gynecology, reproductive endocrinology and infertility, women's cancers, and women's wellness.
Throughout her internship, Shumate worked on two independent research projects including histone antibody staining of C. elegans gonads in order to evaluate histone presence in aging gonads. The second project was analyzing gene influence of recombination frequency on C. elegans Chromosome I, using SNP mapping.
Read more about Lucretia's research at Magee Women's Research Institute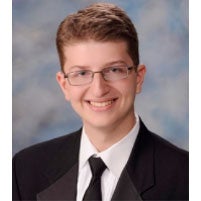 Anthony Mannino '20
Physics
Anthony Mannino '20, a physics major with a minor in economics, secured a fall semester away research opportunity at Boston University's Undergraduate Research Opportunities Program.
"The research I conducted at Boston University involved collecting and analyzing data to investigate the effects of legislation regarding genetically modifying foods (GMOs) on the prevalence of undernourishment in approximately 40 countries," said Mannino. Throughout his semester away experience, Anthony enjoyed the freedom and flexibility to make changes to simplify the data collection process in order to be more efficient.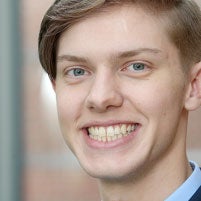 Grayson Gerlick '20
Biomedical Engineering
Grayson Gerlich '20, a biomedical engineering major with an imaging and instrumentation concentration, secured a spring semester away research internship at the Center for Structural Biochemistry (CBS) in Montpellier, France.
Throughout his research internship, Gerlich was able to apply his imaging knowledge from his major to perform cutting-edge experiments with his team. "At the risk of sounding cliché, my spring away opportunity was the most influential moment in my life so far," said Gerlich.